Laminate Flooring in Fredericksburg, VA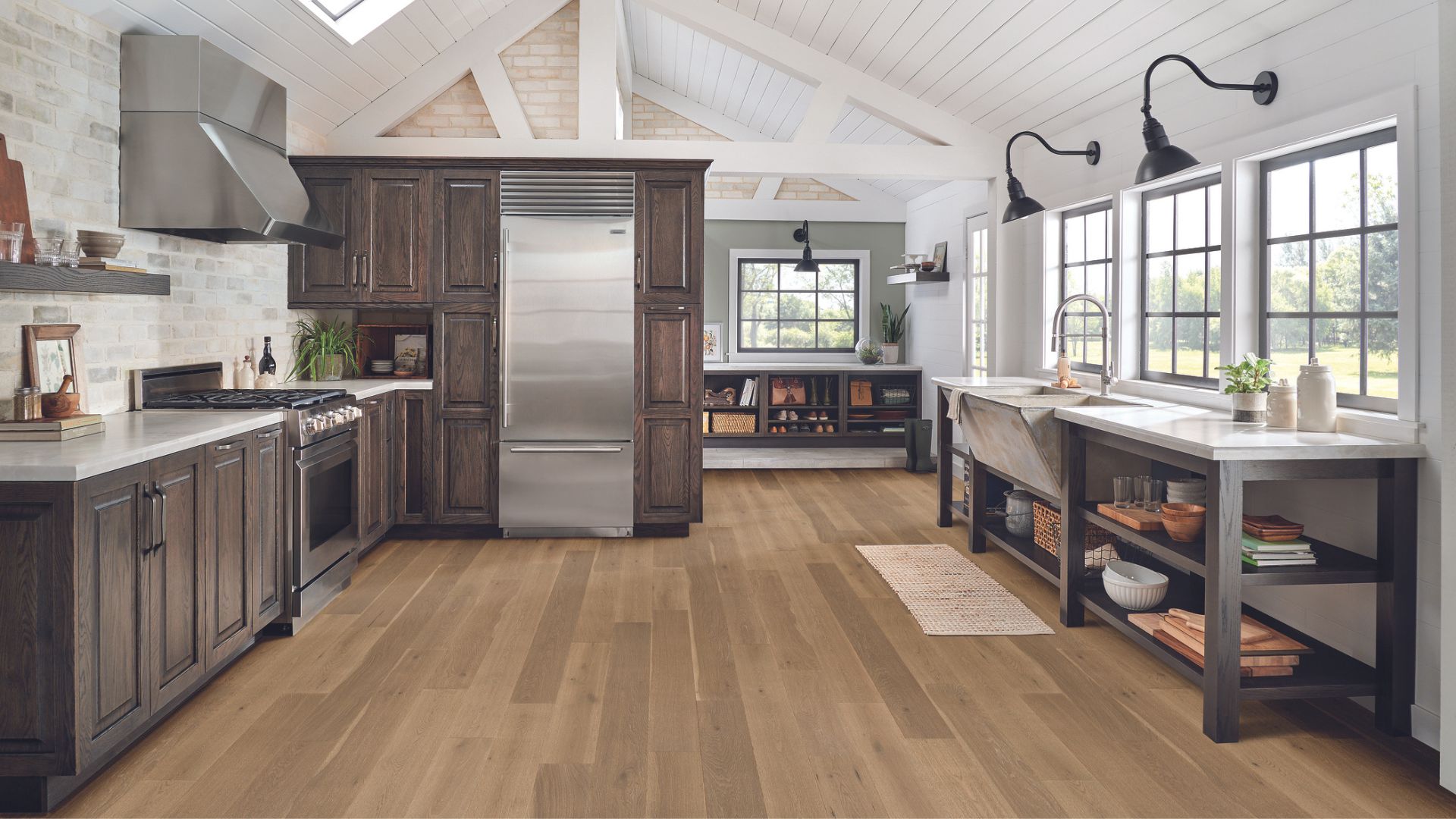 Looking for budget-friendly flooring in Fredericksburg, VA? Look no further than The Carpet House Design Center, your premier destination for laminate flooring. Our extensive collection of laminate styles, colors, and sizes has been enhanced with state-of-the-art digital imaging to provide a remarkably authentic look. Enjoy the timeless beauty of stone, solid wood, marble, or ceramic – all available in our laminate selection.
Our laminate flooring boasts a robust multi-layered design, featuring a protective layer, a lifelike image layer, a durable wood core, and a sturdy resin backing. This choice is moisture-resistant, scratch-resistant, and built to withstand heavy foot traffic. Visit our showroom to explore renowned laminate brands like Revwood, Shaw,, and more. Elevate your space with style and quality.
What is Laminate Flooring?
Laminate flooring is a versatile and cost-effective flooring option that replicates the appearance of natural materials like wood and tile while offering numerous advantages. At The Carpet House Design Center in Fredericksburg, VA, we offer two main types of laminate flooring:
Laminate Wood Flooring:
Authentic Wood Look: Our laminate wood flooring beautifully mimics the appearance of real hardwood, providing the warmth and elegance of wood without the high cost.
Variety of Wood Species: Choose from a wide range of wood species and finishes, including oak, hickory, maple, and more, to match your desired aesthetic.
Durable and Low-Maintenance: Laminate wood flooring is highly durable, scratch-resistant, and easy to clean, making it ideal for high-traffic areas.
Laminate Tile Flooring:
Tile-Like Realism: Laminate tile flooring replicates the look of natural stone or ceramic tiles, offering the sophistication of tile without the cold feel and grout maintenance.
Various Tile Styles: Explore different tile styles, from classic marble to contemporary ceramic, to find the perfect match for your design vision.
Moisture Resistance: Laminate tile flooring is designed to be moisture-resistant, making it a suitable choice for bathrooms, kitchens, and other areas prone to humidity.
Both types of laminate flooring at The Carpet House Design Center in Fredericksburg, VA are engineered with advanced technologies to ensure a realistic appearance and outstanding durability. Whether you're seeking the warmth of wood or the sleekness of tile, our laminate flooring options provide a budget-friendly solution for your flooring needs.
Laminate vs. Vinyl Flooring: Which Is Right for You?
Laminate and vinyl flooring are both popular choices for cost-effective, durable, and stylish flooring options. Here's a brief overview of the key differences:
Laminate Flooring:
Composition: Laminate is composed of multiple layers, including a wear layer, a printed image layer (which can mimic wood, tile, or stone), a core layer, and a backing layer.
Look and Feel: Laminate typically replicates the appearance of natural materials like wood or stone and offers a realistic texture, giving it an authentic look.
Durability: Laminate is known for its excellent scratch and impact resistance, making it a good choice for high-traffic areas.
Moisture Resistance: While it can withstand spills and everyday moisture, laminate is not recommended for wet areas like bathrooms.
Vinyl Flooring:
Composition: Vinyl flooring is made of synthetic materials and is available in two primary forms: vinyl sheets and luxury vinyl planks or tiles (LVT).
Look and Feel: Vinyl comes in various styles, including wood, tile, and stone looks, often with a textured surface for a realistic feel.
Durability: Vinyl is highly resilient, offering excellent resistance to stains, water, and wear and tear, making it ideal for areas prone to moisture or heavy use.
Moisture Resistance: Vinyl is fully waterproof and suitable for wet areas like bathrooms and kitchens.
Ultimately, the choice between laminate and vinyl flooring depends on your specific needs and preferences. Laminate is an excellent choice for areas with moderate moisture exposure, while vinyl shines in spaces where water resistance is crucial. Both options offer a variety of styles and durability, making them versatile solutions for your flooring projects.
Pet-Friendly Laminate Flooring: Ideal for Your Pets
Our pet-friendly laminate flooring at The Carpet House Design Center, Fredericksburg, VA, is tailored for households with pets. Enjoy scratch resistance, durability, and easy cleanup. Its realistic wood and tile look complements your decor. Plus, it's comfortable and sound-absorbing. Make your home a pet-friendly haven with our laminate flooring.
Professional Laminate Flooring Installation
At The Carpet House Design Center, we're committed to ensuring your satisfaction and the longevity of your new floors. Our recommended solution: professional installation by our skilled team. Once you've chosen your flooring, let us coordinate a laminate installation appointment. Our expert installers will arrive punctually, well-equipped, and ready to deliver precision and quality.
We meticulously adhere to the manufacturer's guidelines and industry best practices, safeguarding your floors against potential damage and extending their lifespan. Additionally, we back our services with the Ultimate Confidence Guarantee. If any installation issues arise, our professionals will swiftly return to your home for corrective measures at no extra cost to you. Your peace of mind is our priority.


Contact us today for more information about our laminate flooring selections. We proudly serve residential and commercial customers in Fredericksburg, VA, and the surrounding areas.